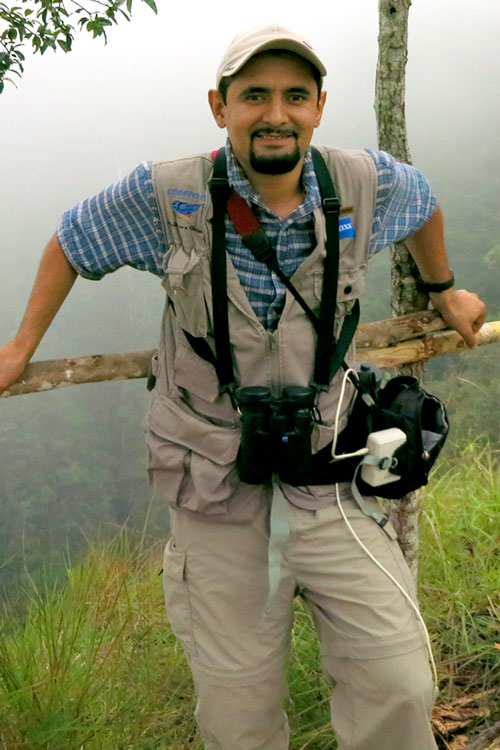 Alexander Alvarado / Birds Specialist
Alexander Alvarado grew up in Copan Ruinas on the western part of Honduras, he became interested in birds many years ago when he was working for Hotel Posada Real de Copan located in this Mayan City, years later he got a job in Macaw Mountain a Bird Park and Nature Reserve located a few Kms. out of Copan and that was his first experience treating birds! an open window for his passion.!
On 2006 he started investigating Honduran birds in different habitats traveling all over the country, after considering the great diversity of species of birds he started offering birding tours locally in Copan Ruinas. his tours were mainly morning hikes in the Copan river area and the surroundings of Hacienda San Lucas.
Years later he was part of training courses for birding into different places all over the country., his experience with birds made to all honduran birders to declare him President of the Honduran Ornitological Association on 2013., now he is still member of it, Actually he is in the top list of recommended guides for this country with a great experience leading birding groups and individuals.
His experience had been increased along the time, actually he leads birding tours all over Guatemala, Belice and Honduras, on 2015 he had groups coming from all over the world including some individuals and Companies such as: Birdfinders, Nature Trek, Cheepers Birding, Birding Ecotours, Wings Birding Tours, Nature Travel Specialists, Sabrewing tours, Rockjumper birding Tours and many others.
His reputation and bussines is increasing as Honduras is increasing for a great destination for birding.
Enjoy the experience in a Great Country!
Honduras was always one of those places you'd heard mention, probably because of security problems, but never considered visiting. Though it is slowly shedding this poor image, the situation its getting better considerably and is considered the one of the best destination for birders travelling to Central America. The country is a birder's dream. With the highest species count of Mesoamerican birds over 743 it really is a must for any serious neotropical birder.
This huge diversity of species results from the equally diverse range of habitats. Pacific and Caribbean coasts, lake Yojoa and Many lagoons, cloud forest almost all over the country and valleys.
Honduras is an immense tropical paradise teeming with extraordinary natural history, stunning scenic beauty and a great biodiversity in Central America.
Honduras is a great destination for neotropical birding, simply an essential pilgrimage for any birders wanting to enjoy the tropical birding trip of a lifetime! Boasting the second richest avifauna in Central America an incredible 747 bird species and home of the beautiful Honduran Emerald endemic.
Honduras offers a wonderful stable and safe eco tour destination, excellent modern infrastructure, full of friendly people with an endless variety of tasty cuisine and of course birds and nature galore!
Honduran Birds is a highly specialized receptive nature tour operator catering for free independent travellers, international tour operators or organizers. Our goal is to provide highly customized nature travel services in Central America. We are the first official Honduran nature travel company for Birding, the leading birding and nature specialists for Honduras. Throughout these pages you will find a wide variety of suggested journeys created for your enjoyment. Please remember that these itineraries are sample ones, and they can be customized according to your personal preferences.
Start discovering our tour offerings by scrolling down the "TOURS" menu located on the upper sidebar of this page and choosing a tour category.
The most important forest of the center part of Honduras is formed by a set of subtropical rainforests including the wonderful PANACAM and the second highest mountain Santa Barbara Forest in the adjacent areas to Lake Yojoa. These forests host dozens of unique species of orchids, small primates, bats of rare habits and amazing birds.
Around 200,000 hectares of the highly endangered Interior Atlantic Forest still stand in patches spread the beauty of these places.